You have chosen a nice app idea, and now you want to know how to profit from an app? You're in the right place; this article targets free app owners who wish to monetize their businesses.
There are many methods to profit from an app, but sometimes not all the ways work out for the better. All you need is to follow the right strategies. We've outlined the most popular and effective monetization techniques that might assist you in getting the outcomes that have been proven to work.
Here are 5 effective strategies on how to profit from an app
Advertising as a profit from an app
Use subscriptions to profit from an app
Find sponsors for your app
Email Marketing
In-app purchase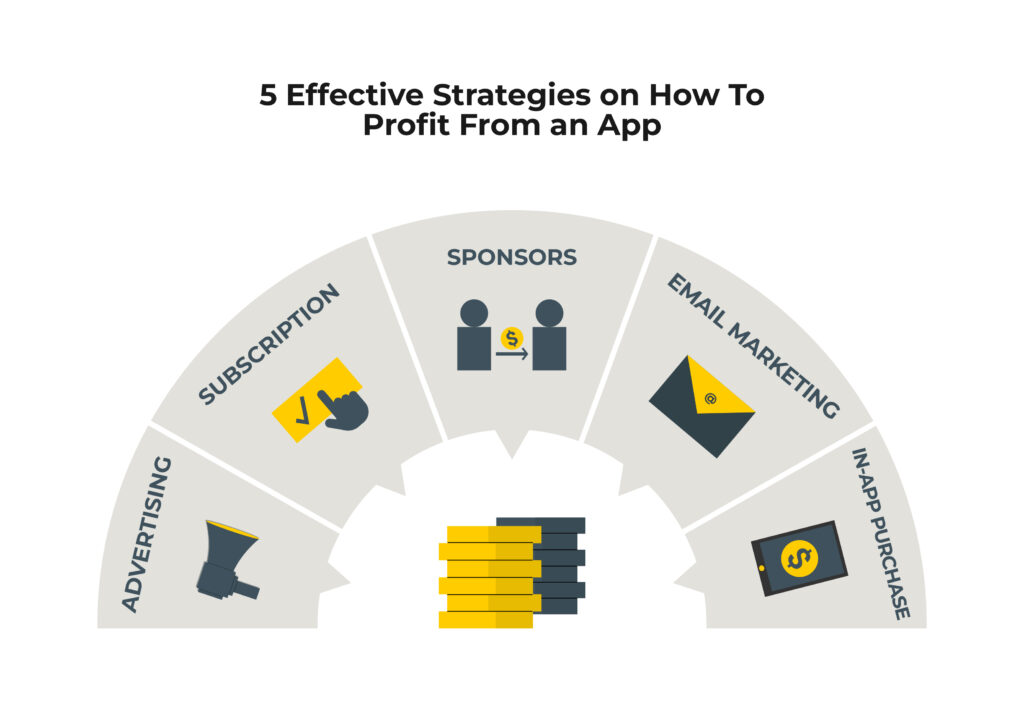 1. Advertising As a Profit From an App
Have you ever noticed advertisements while you download or browse a mobile app? That is one of the ways that the app is making money. Advertising is an easy and most common way to profit from an app. Every app owner can do it. All you need to do is monetize your app by displaying a commercial inside your app, and then you get paid by third-party ad networks.
As an app owner, you can profit from an app when the user clicks on ads or downloads the app from the advertisement.
There are some ad displays from which you can profit from an app, but you have to make sure which are the suitable ads for your app because you don't want to bore or irritate your users. It is good to see if the users find those ads interesting or if they are blocking them.
Banner ads
A banner ad is the most shared ad because it's easy to launch, affordable, and, most importantly, less intrusive. It's placed on the side of the screen, either top or bottom, so people can use the app without interruption while the ad is playing.
Video ads
This type of ad is quite different from a banner ad. You probably have noticed it while using an app. Video ads are videos that play automatically and last 10-30 seconds.
Interstitial ads
This ad is not very preferable to the users. It appears in the most critical moments and gets attention by occupying the entire screen. That's the advantage of this ad, but at the same time, that's the disadvantage because it can interrupt users and annoy them.
Reward Ads
This ad is the most preferable for both app owners and users. With this type of ad, you can motivate users by rewarding them. Everyone likes to have more points while they play their favorite game. It's a win-win story, users get rewarded with points, and you with engagements.
2. Use Subscriptions to Profit From an App
Subscriptions are the best choice if you want to profit from an app without advertisements. It's one of the finest strategies to profit from an app. As an app owner, by using the subscriptions method, you can offer free content for your users for e limited time. Then offer them a subscription fee that will allow them to access more of your content without limitations.
This monetization method can be very profitable but also requires detailed and up-to-date content strategies to guarantee high-level services for your subscriber.
3. Find Sponsors For Your App
Sponsorship is an interesting method of how to profit from an app. However, it's one of the least used methods because it is available for apps with regular users. The challenge here is to be able to find sponsors. Your app should be great to attract potential sponsors.
Like any method, this method also has pros and cons.
The advantage is that by using this method, you can expose your app to the right audience. But the disadvantage is that mistakes aren't allowed. If you don't do it right, it will affect your app.
4. Email Marketing
Email marketing is a profitable method to profit from an app and any industry. This method is a technique of collecting emails and then emailing users with marketing materials to get subscribers. Anyway, nowadays, this method is not very much used. That's because it's very effective for top-branded apps but not powerful enough for startups who want to profit from an app.
5. In-app Purchases
In-app purchasing is a viral strategy for how to profit from an app. It's made directly from the app, and it helps developers to sell their items virtually in an easy way. It is considered an exchange between owners and customers. Even though it's a perfect way to earn money from an app, most owners don't prefer it because of one of the cons of this method. And that's the amount charged as a fee that App Store gets from the app within in app-purchases, which is 30%.
You are already there!
These are some of the most used methods to profit from an app. Maybe not each of them will fit your app strategy, but you will find yourself with at least one of these popular methods.
While advertising is easy to profit from an app, subscriptions and sponsorship need more explicit content. Email marketing can be a friendly method to help you profit from an app, even though it is an old technique.
Of course, each strategy has its pros and cons, so it's essential to understand the product you're trying to develop.