Clutch Names Eagle IT Solutions as a Top Development Company in Macedonia for 2022
Creating memorable tools and platforms requires an understanding of the people that will eventually see it. The best development services are the ones that combine a technical expertise and human insight.
Our team's focus on both of these skills are the main reasons why we've been named as one of the Top Development Company in Macedonia for 2022 by Clutch.
A review platform, Clutch is an online independent company that's based in Washington DC. They use a unique verification process that tests the legitimacy of the information sent to them before it gets published as reviews on the site.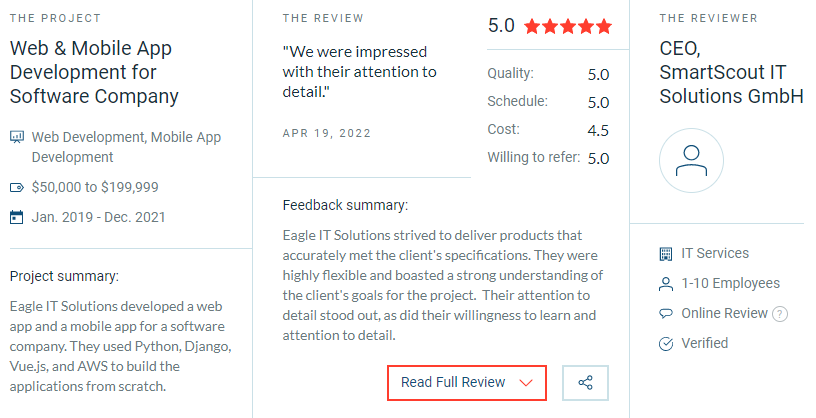 Before any business can win an award from Clutch, they first need to earn multiple high-quality reviews from their clients. This is a system that rewards consistent excellence and our team is all about it.
"We are very happy that we won this award as a team! Thank you to our customers and to the most awesome team in the world for the love, motivation, and hard work you put into your work every day!" – Gjelberim Mamudi, CEO and Co-Founder of Eagle IT Solutions.
This award validates much of the hard work that our team puts into every project. It's because of efforts like these that we know we're on the right track in terms of quality and that our services are appreciated.
This award will significantly raise our profile as a service provider. This means the expectations will be much greater as well. But we are confident that we have the skills and experience to overcome anything we might face in the near future. Learn more about the services we offer and why our clients named us as one of the best by visiting our website. You can also talk to our team directly via our contact page and get the answers you need as soon as possible.