While developing an app, you probably heard that you need to create a user persona for an app. But don't know why and how to? We're here to help you with that.  
When you develop an app, it's essential to consider your target audience. Your app should connect with customers, understand their pain points, and find a solution for them. That's when user personas come in for help.  
However, we must first understand what a user persona is and why it's important for our app.  
What is a user persona, and why is it important?  
A user persona is a fictional figure that represents your target customer. They are created based on customer behaviors, motivations, needs, demographic attributes, interests, and unique identifiers.  
But why create a user persona? It's simple. You need a user persona to target customers and make personalized products. This way, you can know your target audience and easily create a user-centric app with which your customer will connect.  
How to create a user persona for an app?  
It is expected that, as a business, you don't want to target only one set of audiences. In today's app market, the key to success is to reach out to as many customers and engagements as possible. You can always create more than one user persona, but you should also know when to stop. If you create a lot of user personas, you will eventually start to notice that some of them are similar to one another.  
Now, let's see what steps we should follow to create a user persona.  
Here are 4 steps on how to create a user persona for an app:  
Research your target market  
Find out goals and motivations  
Identify user challenges  
Create a user persona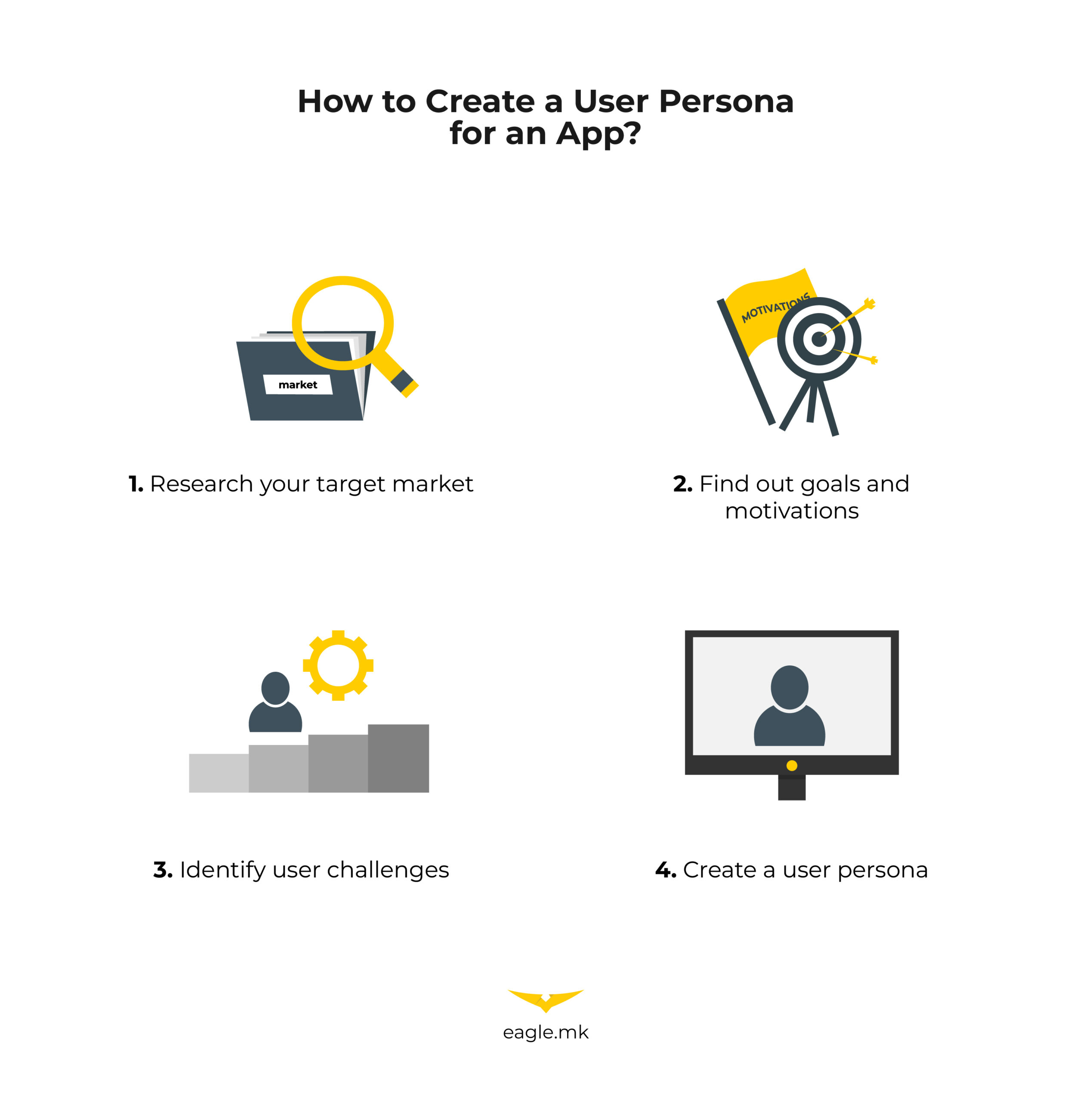 1. Research Your Target Market  
The first key step when you create a user persona is to do a lot of research on your target market. Find their demographics, challenges, interests, behavior, and more. You could do this by interviewing or talking to people in your target market. You also can prepare surveys and try to find their experiences with similar apps.  
Adopt positive user feedback from those apps and take negative feedback as an opportunity to improve from your competitors' mistakes.  
2. Find Out Goals and Motivations  
After researching your target market, you must focus on your customer's main goals and motivations. You must understand what makes them download your app. You need to figure out the role your app could play in your customer's professional or personal life. To do that, you should get inside your customer's head and understand how they think and what goal they want to achieve. Once you've figured that out, you'll better understand what features your app should have to help your customer.  
For example, if you are creating an app in the health category, and your user's goal is to be healthy and eat healthy food, your app should include features that help your customer track their healthy meals. This way, the customer is motivated to use your app more often.  
3. Identify User Challenges  
Once you understand your customer's goals and motivations, you should identify their challenges. They will help you resolve your app's issues, such as features and design issues.
They also may have challenges; for example, as we mentioned above, they want to stay healthy and keep track of their healthy meals. However, they don't have enough time to do that and forget to open the app. In this case, you can solve their problem by including notifications in your app reminding them to track their food program.
Understanding customer's challenges is essential if you want to design an app that will provide a solution for them.
4. Create a User Persona
Finally, after gathering enough information, you can create a user persona for your app by putting all the data together. But how to start it?  
Here is a checklist of what you need to create a user persona:  
Name: Your user persona should coincide with a real person; that's why the name is essential.  
Photo: A photo will create a realistic touch to the user's personas. Tip; To eliminate prejudice and bias, don't use celebrity photos.  
Bio: A bio will give a unique identity to your user persona  
Personal quote: It could be a one-line sentence that better describes the user persona  
Demographics: Demographics will help you to understand the user's interests, wants, and needs, from which you'll be able to connect with them more.  
Goals and challenges: The user persona's goals and challenges help you identify your app needs.  
If you want to create more than just one user persona, you must make them all differently and prioritize each.  
It's time to create your user persona! 
User personas are a powerful tool. Creating your user personas properly will make the design process less complicated and make your app the right choice for the targeted audience.