Wondering how to develop a low-budget app? It's a common question. The good news is you're right where you need to be. 
This article will help you to have a general idea of how to develop a low-budget app. 
There are many strategies on how to remain on your planned budget for your app development, but we will focus on the five easiest and most popular steps. 
Here are 5 easy steps on how to develop a low-budget app: 
To develop a low-budget app, set your app goals 
Keep it simple and unique 
Build an MVP (Minimum Viable Product) version first 
Choose the right platform when you develop a low-budget app 
Consider maintenance costs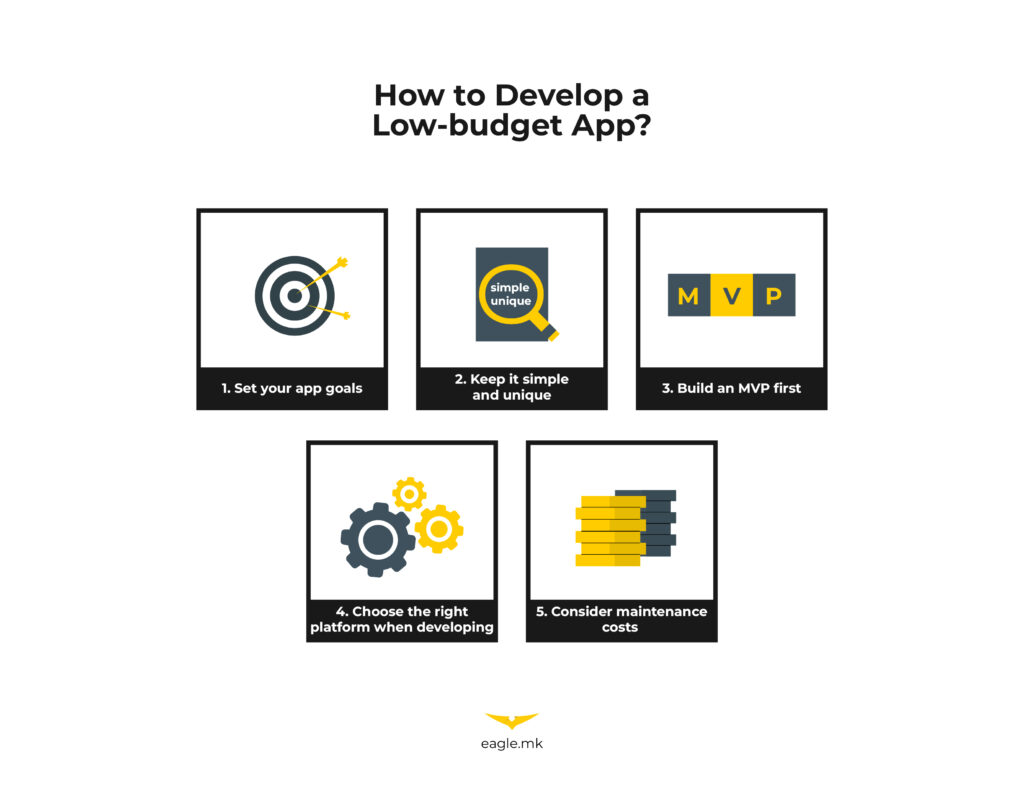 1. To Develop a Low-Budget App, Set Your App Goals  
Set your app goals if you want your development costs to remain within the planned budget. Before starting the process, you need to know what your goals are. If you want to set your goals easily, you should answer these questions: 
Why are you developing this app? 
What problems are you trying to solve? 
Who is your target audience? 
Who are your competitors? 
What is your monetization strategy?
When you start negotiating with app developers, whether they are a company or a freelancer, you need to answer these questions.
If you plan your budget properly, you can avoid unforeseen expenses. 
2. Keep It Simple and Unique 
You have analyzed your market competitors, defined your goals, and are ready to move to the next step. 
Developing an app sometimes comes with the desire to build the app with as many features as possible. This is because we think that more features on apps mean better functionality. But that is not necessarily true. 
Many times, complex apps can confuse users. So instead of building a multifunctional solution, try to highlight the main characteristics and keep it simple and unique. This way, you'll have a good functioning app and avoid higher costs. 
3. Build an MVP Version First 
It is not a good idea to complete the full development process until you have tested your product on the real market, especially when your budget is tight. 
To prevent wasting money and time, building a minimal viable product (MVP) is recommended. Its goal is to fast-check how your app will do in the real market with real users. 
That is one of the ways to test an app idea as well. 
4. Choose the Right Platform When You Develop a Low-Budget App 
When you develop an app, of course, your goal is to reach as many users as possible. And that's a good ambition. But when you are on a limited budget, you must decide carefully on what platform you want to focus on. 
Android and IOS are native platforms and are more expensive. That's why it's difficult to keep low development costs. 
Of course, there's another option, and that is hybrid platforms. These platforms are built in a universal language, and the costs of these platforms are way lower. However, they don't have native's performance.  
So, before you choose any of these platforms, you should figure out the better choice for you and the risks you take. 
5. Consider Maintenance Costs 
Maintenance is very important when you develop an app. You can succeed in developing an app and submit it to app stores, but if you don't maintain it right, the chances of your app failing are high. That's why you should consider maintenance costs when you plan a budget for app development. 
App maintenance affects your costs because it takes approximately 20% of your budget. Thus, considering how much it will cost to maintain your app can help you plan your budget precisely. 
Develop your app without going broke 
There are a lot of surveys on how much an app costs, anywhere differently. We may often think developing an app is very expensive, but that might not always be true. With the right strategy and research, we can develop an app with a limited budget. 
A proper start is to create clear goals for your app. Not complicating your app features, testing it before full development, and making the right decisions, will help you stay within your budget.