Some people always ask how to develop a mobile app, while others ask why you would develop a mobile app.
Because nowadays, you can see a smartphone in the hands of everyone. What are people doing on these devices? Using mobile apps. It's one of the finest businesses to start. But we have to say; it's not easy.
You may have some perfect mobile app ideas, but to implement them, you need some best practices to develop a mobile app. And guess what? You are in the right place.
Here are 8 effective strategies on how to develop a mobile app:
Define your mobile app goals
Do competitive market research
Write out the features of your app
Determine how your app will make money
Plan your app design and security
Do quality assurance while you develop a mobile app
Deploy and submit your app to the app store
Improve your app with user feedback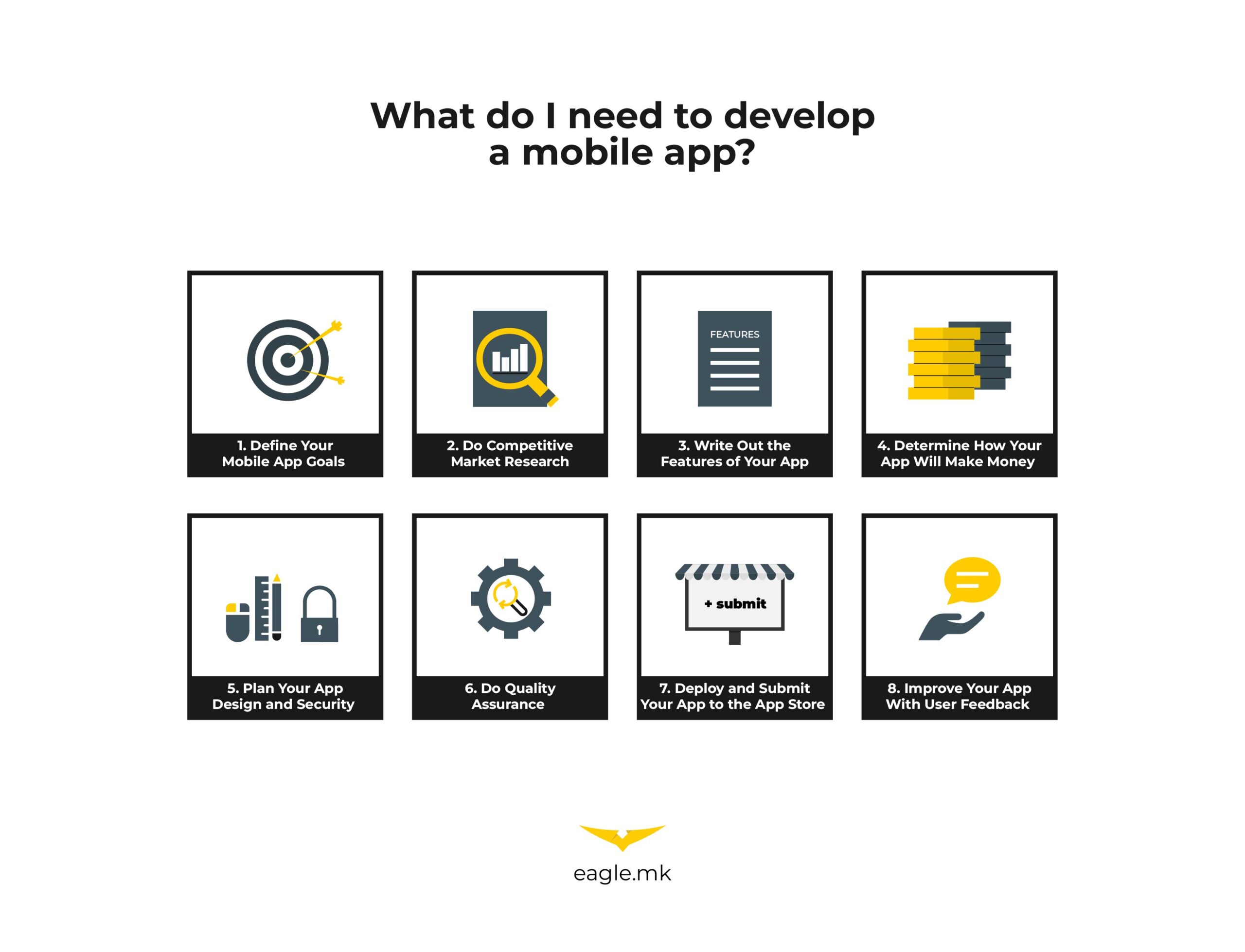 1. To Develop a Mobile App You Must Define Your Goals
If you have already found an idea for your mobile app, you need to go to the next step. And that might be defining your mobile app goals. To develop a mobile app, you must have defined goals from the beginning; otherwise, you will get lost along the way.
Why are you developing this app? What are your aims? What problems will your app solve?
By answering all these questions, you have defined your mobile app goals and are set to go to the next step.
2. Do Competitive Market Research
After establishing your goals, you must research a competitive market. A lot of mobile apps are out there. The competition is big. So, if you find another mobile app with the same goals as yours, don't be disappointed.
An existing app that solves the same problem that your app does, shows that your idea is valuable and there is a need for your app. You must know that there are no new ideas, only further improvements.
And the good news is there is always room for improvement. But remember that the services your app gives should be unique.
3. Write Out the Features of Your App
This is when you'll have the most fun while developing a mobile app. In this part, you enter your imagination. This is the time when you start dreaming. And who wouldn't like to keep dreaming? 😊
While you think about how to make your idea most perfect, you need to free yourself from limitations. When you dream, only the sky is the limit.
When many ideas pop into your head, write them down and give them life.
If you need help getting started, our Mobile App requirements document template can help you.
This is an important phase of how to develop a mobile app project because once you have chosen your app features, everything gets more explicit and ready to go to the next step.
4. Determine How Your App Will Make Money
This may sound like a later step, but before proceeding any further, you must determine how to profit from your app. Don't let it be the first focus of your app, but it's an essential step because, like every other business, one of the goals is to make money from the product they sell.
There are a lot of methods how to profit from an app, all you need is to find the one that fits better for you.
5. Plan Your App Design and Security
When you develop a mobile app, you need to consider the design your app will have. The app design is one of the main things that attracts users. Design is not just about the looks but also about how the users will experience your app. As Steve Jobs quote says: "Design is not just what it looks like and feels like. Design is how it works."
Along with the design, a top priority for a mobile app is security. A strong security program can prevent threats from cyber-attacks and protects information. People have personal information on their phones. So, if you want your mobile app to be trustworthy, you should consider applying protection features.
6. Do Quality Assurance While You Develop a Mobile App
You may have completed the most important steps to develop a mobile app and have a working app, but that doesn't mean your app is ready to go out in the market. Don't skip the quality assurance process. Your app doesn't need to be perfect when it goes on the market, but you'll want to remove all the errors it might have.
To do that professionally, you can hire a quality assurance specialist to identify the app's problems. It's better to find them before launch than to let users find them.
7. Deploy and Submit Your App to the App Store
Now that you have come through the hardest steps, here is the exciting one. You are ready to launch and share your creation with the world!
You need to decide what stores you will use to release your app. Most developers focus on releasing their apps on Google Play Store and Apple App Store.
Focusing on one platform can simplify the app development process. But on the other hand, limits your reach.
Every app store has requirements for app submission, so before launch, you must ensure your app follows those requirements and policies.
8. Improve Your App With User Feedback
If you have implemented all the above steps, that means you have managed to develop a mobile app, so congratulations! 😊
But that doesn't mean your work is done. If you want a successful mobile app, the key is continual improvement. Now that your app is available in app stores, it will soon be in the hands of the users. That's when you get back to work.
You will now start getting user feedback, some of them positive and some negative. It's good to be open to both. Take feedback as advice and make improvements based on it.
Conclusion
Developing an app is not easy. But if there is a will there is a way. If you have clear goals and do a lot of research, you are halfway there. Always try to plan the very small detail, because quality and security are what your app needs. But that's not just it, you have to be open to improvements continuously.